"When you smile, the whole world smiles with you."– Louis Armstrong
"A smile is a language that even a baby understands."– Anonymous
"A smile is the universal welcome."– Max Eastman
"All people smile in the same language."– Proverb
"A smile increases your face value."– Author Unknown
Welcome to Folan Family Dental

At Folan Family Dental, we have been providing our Dorchester friends and neighbors with compassionate, effective dental care, delivered with gentle hands and warm smiles, since 1981. Every patient is treated the way we would wish to be treated: with respect, kindness, and professionalism. Dr. Michael Folan and our dental care team view our patients as individuals and value the friendships that we develop with each. Many of our current patients have been with us since we first opened our practice and we now treat their children and grandchildren, too. We are honored by the trust they have placed in us and that they constantly refer their friends and family to our practice.
Some of the dental treatments and services offered by Folan Family Dental include:
Choosing a family dentist can sometimes be challenging. You need to find a practice where you feel comfortable and know that you are in excellent hands. We invite you to call Folan Family Dental and schedule a complimentary consultation at our Dorchester, MA office. At your consultation, you will come in, meet Dr. Folan and our team, and learn about how we can help you achieve and maintain excellent oral health. We look forward to getting to know you and working with you toward your beautiful new smile!
Inside
the Office
Our office features five treatment rooms, a comfortable reception area, a children's play area and all the latest equipment and technologies.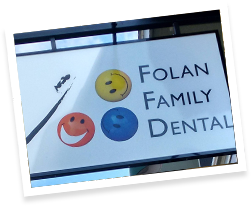 Tour our Office
In the
Community
Our office believes strongly in dental health education and partners with local agencies to support the importance of maintaining optimal oral health.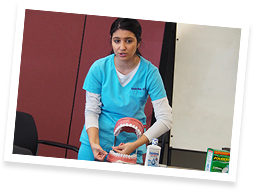 Learn More