Dr. Folan has been collaborating with a local Implant Specialist for over 30 years for single tooth implants, implant retained bridges and All-on-6 implants (for all upper or lower teeth or full mouth restoration).
Single Tooth Implants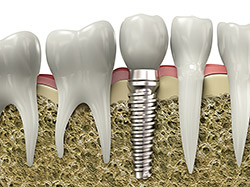 Are you missing just one tooth? If so, you may have prolonged your replacement because it's just a small gap in your teeth. However, even a single missing tooth can have serious health effects on your smile. In fact, unlike other medical conditions that get better with time, this problem will only lead to additional issues if left untreated. To avoid problems like shifting teeth, jawbone deterioration and even more tooth loss a single tooth implant may be the best solution for you.
A dental implant is a small titanium post that is surgically placed in the jawbone to act as an artificial tooth root. Titanium is a biocompatible material, allowing the implant to permanently fuse to your jaw. The result is a sturdy and stable support for your custom-made dental crown that will be placed on the implant.
Implant Retained Bridge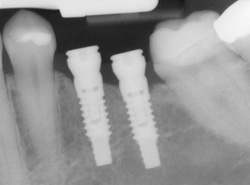 Traditional dental bridges fill the gap in your smile by using dental crowns on either side for support. This requires the removal of your natural dental structure to accommodate the crowns. Some enamel must be removed so dental crowns can be placed on top of the teeth. However, we can use two dental implants on either side to support your dental bridge, completing your smile with strength and beauty. The best part is that your healthy, natural teeth will remain untouched.
Multiple Missing Teeth Throughout Your Smile
One of the biggest benefits of dental implants is that we can use them to replace a variety of patterns of missing teeth. If you're missing various parts of your smile, come into our office for a consultation. Dr. Folan will carefully examine your mouth and develop a personalized treatment plan which may involve implant and tooth supported solutions.

Benefits of Implant-Retained Bridges
While there are other options for tooth replacement, implant-retained bridges are superior because of these unique advantages:
Beauty: Dental implants allow your dental bridge to look more realistic, and this treatment is completely personalized for an amazing smile.
Strength: Rooted in the jawbone, dental implants provide your smile with unmatched strength, allowing you to chew through all of your favorite foods easily.
Bone health: Dental implants are the only replacement option that provide the jaw with stimulation, keeping it healthy and strong after tooth loss.
Dental Health: Because your dental bridge will use implants for support, we won't have to alter any of your natural remaining teeth.
Confidence: Enjoy boosted confidence to smile, speak, and laugh without worrying about your smile sliding or shifting around.
Teeth in a Day
All-on-6 is a implant procedure that is used to replace the entire upper or lower set of teeth. This procedure is done in one day.
How does it work?
Patients are examined by both Dr Folan and the Implant Specialist. Impressions, photographs and 3D radiographs are obtained and a treatment plan is formalized. On the day of treatment Dr Folan, the Implant Specialist and the dental technician all work together to provide the patient with a fixed hybrid denture. The patient leaves the appointment that day with a new smile!
Who's a candidate for All-on-6?
Use tobacco or diabetic? You may not be an ideal candidate for this procedure. The treatment is recommended for patients with a full arch of missing teeth, or who are planning to have any remaining teeth removed and replaced with implants. The All-on-6 treatment offers a stable, long-term, alternative to traditional dentures.
Benefits of All-on-6
The All-on-6 procedure eliminates the need for a removable denture. You will be able to eat naturally without the need for denture adhesives. In addition to easy cleaning, you'll have an incredibly beautiful set of teeth!