Digital X-rays
Digital imaging assists the FFD staff with making a well-informed diagnosis. We have three different types of digital x-rays: 3D, panoramic and intra-oral. These options make it possible to observe the whole jaw area, a specific part of the mouth or an individual tooth instantly. The type of x-ray used is dependent on the information needed to diagnose the patient's oral health needs.
Dental x-rays are safe with less radiation than film x-rays. In addition, FFD takes every measure to make sure that the radiation exposure is As Low As Reasonable Achievable (ALARA principle). A leaded apron and when possible a thyroid collar is given to the patient to decrease exposure.
The frequency of digital x-rays generally depends on your medical/dental history and current condition. We recommend a full mouth series, panoramic x-ray or 3D image every five years. If you are a new patient, we prefer to take x-rays as part of the initial exam to establish a baseline record from which to compare changes that may occur over time.
Each treatment room has a monitor directly in front of the patient, so they can clearly see the digital images. This allows the doctor and/or hygienist to review the x-rays with the patient, clearly discuss treatment options or use as a teaching tool. Thee clarity of digital x-rays also assist the patient with being able to ask informed questions.
Dental digital images have become so advanced that they make a significant positive impact on your oral health:
Allows our staff to clearly show you problem areas. On the chair-side monitor, the FFD staff can review the images with you.
Improves your treatment. Allows the FFD staff to catch problems early.
Saves you money. Small dental problems can become big and expensive issues if ignored.
Keeps your teeth, gums, and overall health at optimal levels. Healthy teeth and gums not only impact your mouth, they have an impact on the health of your entire body. Many researchers have concluded that there is a link between gum disease and other health conditions including heart disease, diabetes and respiratory infections. By having your teeth and gums examined and incorporating digital x-rays you can quickly identify issues and take care of concern rapidly, aiding in your most favorable overall health.
Intraoral Camera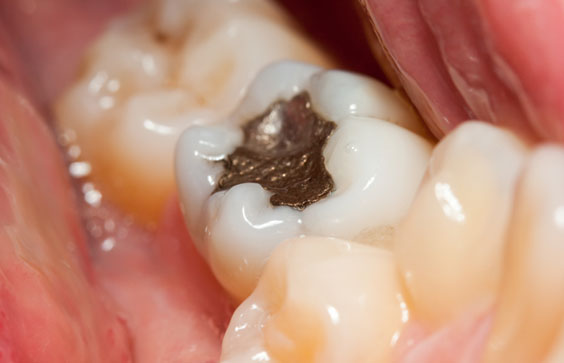 A intraoral camera is a hand-held device that is no bigger than a toothbrush. With the small, non-invasive camera, the FFD staff can get a unique angle of your teeth, which allows us to do a very thorough examination, looking at all of those nooks, crannies of your mouth. The intraoral camera produces images in high resolution and can magnify the pictures of your teeth up to 40 times!
Panoramic X-rays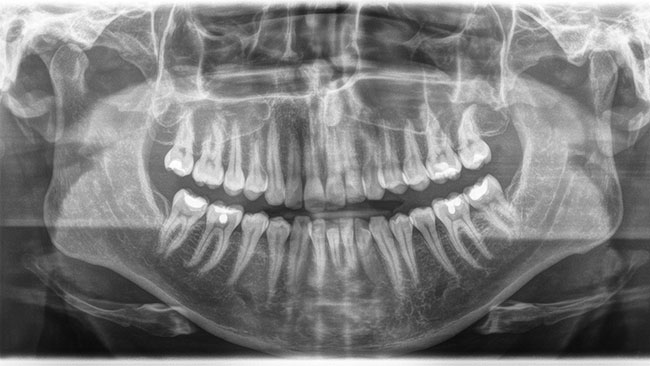 A Digital Panoramic Radiograph (also known as a Panorex) is a complete wrap-around view of the face and teeth. They offer a visual perspective that includes all teeth, jaw joints, and sinus areas. In general, they expose parts of the mouth that are not visible to the naked eye including wisdom teeth, fractures & bone loss of the jaw, and help identify a sinus problem when it is suspected to have caused dental problems.
To take a Panorex, a patient stands in front of the x-ray machine. A small sensor is placed in the patient's mouth. The arm of the Panorex machine rotates around the head capturing the image.
Cone Beam 3D Imaging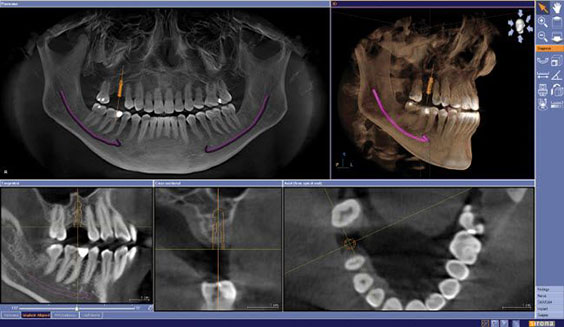 The Cone Beam 3D Dental Imaging provides a three dimensional view of your entire jaw. A single scan can produce a wide variety of views and angles that can be manipulated to provide a very complete evaluation. The Cone Beam scan provides more information than other dental x-rays allowing for more precise treatment planning. The 3D Cone Beam is useful to diagnose more complex issues such as impacted wisdom teeth, dental implant site, jaw and bone deformities, TJM disorders, facial trauma, tumors & cysts, oral cancer and causes of sleep apnea.
Like the Panorex, the 3D Cone Beam requires the patient to stand with a sensor in their mouth, while the x-ray arm rotates around the patient's head to capture the image.